May
25
Music space for elementary students at remote area
Asia Music and Performing Arts Education (AMPA Education) through Vinh Long Province's Union of Friendship Organizations held a ceremony to inaugurate the "Dream Space" at Binh Phuoc C Primary School (An Phuoc commune, Mang Thit district, Vinh Long province).
The project aims to provide the best conditions for students to access music and art education, so that they can develop more comprehensively.
Dream Space is AMPA Education's key project targeting arts education institutes and the elementary school system in Vietnam. The Dream Space provides students with access to a creative zone right in their school building for creating music and the arts.
It is a dream come true for nearly 400 students who live in a difficult commune. Now they have a spacious, genuine and inspiring learning zone, and the opportunity to access a reading corner with various books and to play the piano keys, and the guitars.
At this meaningful event, Mr. Banh Minh Hoang – Principal of Binh Phuoc C Primary School shared: "The school is very honored to receive AMPA Education's investment in building a new multifunctional classroom equipped with many tools for teaching music. Binh Phuoc C Primary School is in a remote area of Mang Thit district, and it is difficult for students to access art subjects, including music."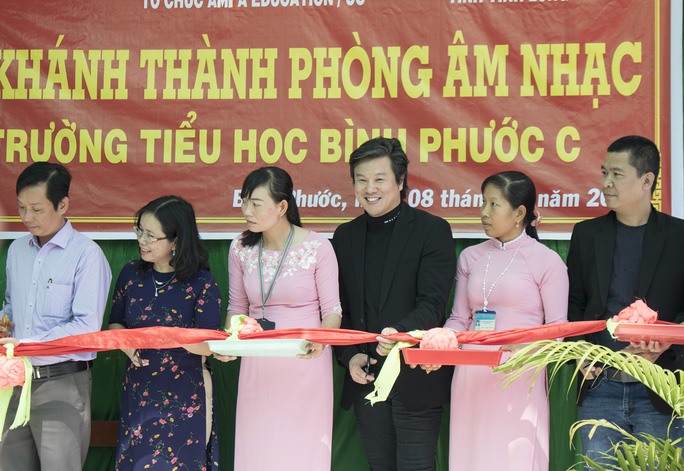 The "Dream Space" at Binh Phuoc C Primary School is worth more than 100 million VND – all from AMPA Education's partners and sponsors. This can be a creative space that students can combine music and art learning (dance, performance and painting). It is fully equipped with instruments to support music learning and performance: musical instruments, stage, mirror and performance stage; a diverse bookcase of books for primary school students, helping them access new knowledge and learn more aspects of life; adopt the latest art and music curriculum; support to improve teacher capacity to help equip a solid knowledge base, thereby imparting the best to students…